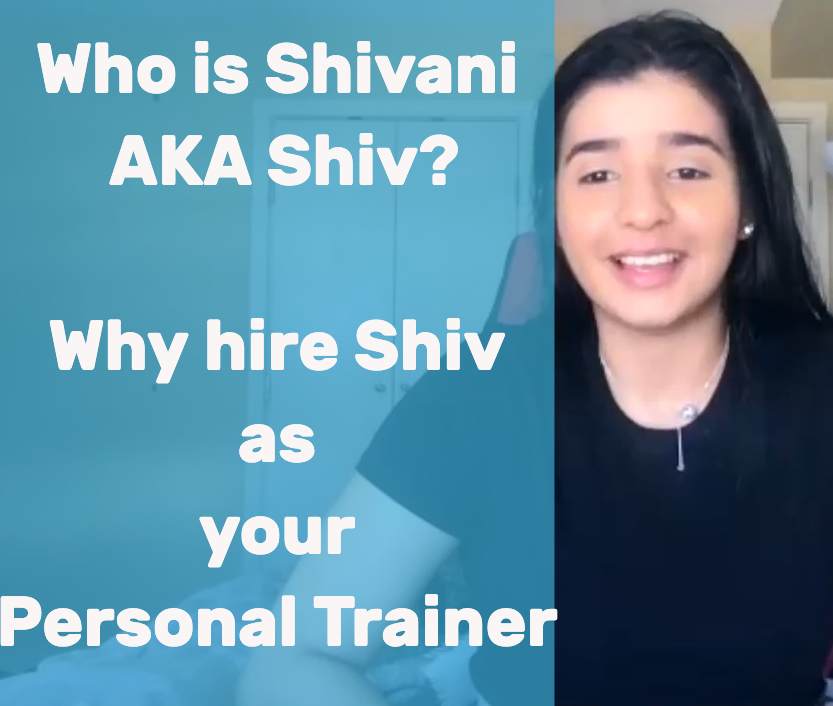 Shivani is a certified personal trainer and a UBC Kinesiology student based in Vancouver, Canada. Shiv has worked with individuals from many demographics, including athletes, adults and older adults, and patients with Schizophrenia.
Shiv's interest in the body and movement started when she was very young as she was always involved in competitive sports. When Shivani moved to Vancouver to pursue her undergraduate degree, she found it is challenging to get acquainted with living independently in a new continent. Shivani's health and fitness goals were put on hold. Within the first year of university, Shiv's body had changed, and she, along with everyone around her, began to notice and comment on it. Shiv started to struggle with mental health issues related to body image and identity.
The journey back to being content and happy about my body was challenging. Shivani decided to educate herself in nutrition further and get a personal training certification to help with my physical struggles, but she also learned a lot about self-love and worth.
Today, Shiv is content, capable and an educated personal trainer who is a huge believer in the body and mind connection. Shivani has now worked with many clients and taught group classes.
Shivani also works at VGH as a personal trainer in the schizophrenic ward. She works with the patients to achieve their fitness goals and provides an activity to focus on their mental wellbeing. Shiv has learned a lot from the clients there and the staff working in the ward. She hopes to contribute to my patient's overall wellbeing, whether through assisting them in improving their performance in the gym, being a listening ear, or helping them enhance their self-confidence.
Shivani is dedicated to helping her clients achieve their goals and support them through their turbulent times too!
Interview with Shivani Jiandani
Shivani: I've always been really, really interested in the human body.
0:11
I became very interested in it—personal Training, when I was actually in high school.
0:22
And actually became initially became very interested in rehab therapy.
0:26
So that sparked my interest in kinesiology as my undergrad major, and what promoted me like what prompted me to get here was when I was 16. My dad became very depressed. And he.
0:44
It really hindered my relationship with him because I didn't understand it, and I don't think he really understood it either, and it created many conflicts there.
0:54
And I was learning a lot about the human body and the human mind, and they just, to me, it always seemed very, very interconnected. Those who work together, so to whatever capacity I could, would try to make them, you know, go on a walk or do any home activity because he was very sedentary.
1:13
But still, because he was obviously in a very depressed state and I was 16 like I didn't know the right ways to, you know, motivate him or help him, and I think it really deteriorated our relationship. We're fine now later in life. You know we sorted everything out, and we're really, really good terms he's. We're very close now, but I think it took me understanding what he was going through to get there.
1:37
And then also when I was so that was when I was 16. When I was 17, my mom was diagnosed with breast cancer. So she had to go through chemotherapy, radiation therapy, everything. And I've because my dad was working. I was in school, so I became like my mom's main caretaker, so I was going to every appointment I was going to her radiation sessions, it's going to every single therapy, you know, we did with the osteopath that was, I was there, and I even went with her to physiotherapy sessions and her physiotherapist was a really, really inspiring woman. She was she would teach me different ways and techniques to, you know, massage my mom when she needed her. Still, she would also tell me how she approached talking to my mom about physiotherapy and rehab therapy. It just reinforced this idea that everything related to the body is not just a physical challenge. It's also such a huge mental challenge.
2:43
Then I at this time, I was still very, just very much interested in the mind-body connection. When I came to college, when I started my first year of college, I gained a lot of weight because I was obviously eating red food. I just wasn't; it was difficult. I was moved to a new little continent; I had to adapt to make new friends do. The school was very, very stressful so I gained a lot of weight. And I was in kinesiology, so it was a lot of pressure. I felt a lot of pressure about my body and how they looked because everyone around me was so fit and active.
3:14
And that's kind of what was like the final straw, but what got me to get my certification in personal training finally was so I could like help myself.
3:25
But through being a personal trainer, I feel like I've learned a lot more about the mind, body connection. 
David: Why did you pick here? 
Shivani: I'm originally Indian, but I grew up my whole life pretty much in Singapore. I chose to come up. It was a decision between Canada and America for my college, and just when I was looking at the UBC website, and they're like what they stood for, I thought I just like really aligned with what I wanted. On top of that, that's such a great kinesiology program, and I just kept I knew I wanted to use museology, and so it's going to go wherever offered the best program that was here. Do you remember the specific moment that happened that you're like, I have to become a trainer to help myself?
4:11
Yeah, so I started to volunteer at a job at NBC called body works. I was just a volunteer. I was doing it because I was interested again. I just wanted like expand my knowledge. I was working with a personal trainer at the time, and he was so smart and so caring. We share everything about everything, and he was just very open with me. I was like, damn, like I want to be able to do that.
4:39
Not just for myself but for like people I know, and you know, so I think that was when I started working with him when I realized like okay, I want to get certified.
4:47
David: What does personal training mean to you?
4:56
Shivani: I look at it as a very. I know not everyone sees it as like a very overall kind of person you have. Still, as a personal trainer, I want to be very holistic as such as what I believe in you know I don't think health is going to improve with just focusing on one aspect. I think it's definitely more holistic, so to me, personal training is, you know, keeping being able to help someone physically and keeping them accountable with other aspects of their life and being that being someone to like a challenge. Push them when they need it, and then also like share information as much as they can.
5:34
David: Why is that important? 
Shivani: I really like to learn. I just always, I'm always trying to learn from whatever I do, whatever I need. So, I, hopefully, when I meet someone, I'd be like, I will do that for them as well. I think I really understand the struggle.
5:55
In today's world, I feel like without the internet and everything, I have experienced the pressure of, you know, wanting to have the ideal body and not meeting the standards of beauty that are like set out and presented to everyone. And I understand the impact that that has on your mental health because I did go through that myself and especially being a new person in a new place in a new setting, and not being able to control that when for the rest of my life, as I've always been an athlete I've always been very fit and active and so when I came here, and I had to, and I experienced.
6:31
You know anxiety, and you know body dysmorphia and all of that. In my first year of college, I started not knowing much of how to like get out of that.
6:44
Even when I was improving, even when I was progressing, I still didn't give myself credit, and I didn't have a value that actually likes what I was doing was working; I still, you know, I just was very mean to myself. And I think I had to learn how to appreciate my progress my own progress and learn that.
7:08
It's not about, I had to really learn how to disassociate myself from what the ideal beauty standard is set out to be, and I just knew that I wanted me to look like the best version of myself, rather than hold myself to like an external body that I would never be able to achieve because it's not real. I think many people struggle with the same thing about how they know they want to look and feel a certain way. Still, it's challenging to get there, and it's really about you amend your mental state and, you know, working out the right way and doing the right things that work well with your body and being able to push yourself, and that takes a lot more than, you know, you could imagine. 
David: Was there one takeaway for somebody that's listening that you can give for a tip today? 
Shivani: Something that worked for me really well was to actually look at myself in the mirror actively every day and say one nice thing about myself, and that's what I did for months, months, months, I can't even tell you how long I did that for to like feel good about where I was awesome. 
David: Obviously, its working consistency is key.
8:19
David: How do you feel today.
8:21
Shivani: I feel great, I feel confident, I feel strong, I've never been stronger in my life. I feel so good about that. And I'm really, really proud of myself for changing my goals to be performance goals. You know I do definitely have goals for what my body looks like as well, but I think those are second hand to what I, my performance goals and I know that that's just like a byproduct of what I'm what the all the other things that I'm that I want to achieve, you know.
8:50
David: Do you feel that it made life easier with maybe family, friends, school, any or all? 
Shivani: I think being able to be confident in every situation has helped me in every aspect of my life, even taking the exam, I feel I'm already when I study for the exam I'm like yeah I don't want that I do well, even that, you know, talking to people and making friends everything when what I felt when I started to feel confident that all the kids just like fell into place by itself, and felt like it was easy. Whereas, initially, that was really, really difficult.
---
About Turnfit Personal Trainers
TurnFit Personal Trainers is founded by David Turnbull or "Coach David" – an experienced and successful Personal Trainer who strives to build happier, healthier lives every day.
With a focus on holistic health, we pride ourselves on making a difference and were recently awarded the 2020 Top Choice Award for Personal Trainer in Vancouver.
It's our mission to help you to build the skills and mindset it takes to feel successful in all areas of your life. For more information, please visit Turnfit.ca, join our communities on Facebook and take advantage of all of our FREE content by subscribing to our Youtube channel.
We look forward to hearing from you!
-David Turnbull, TurnFit Personal Trainers LTD