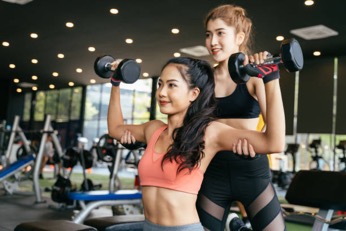 The Benefits of Working Out on Your Period
The negative feelings and pain you might feel in the PMS before your period or during your period may be reason enough not to engage in physical activity for those 5-8 days you have it. However, there are benefits to working out on your period as well as things you can do to work with your period, resulting in a less painful period and an enjoyable workout experience. So let's first see why it is beneficial to work out on your period.
Why You Should Workout on Your Period
1.   Natural Painkillers; Endorphins
Exercise triggers the release of endorphins in your brain, causing a 'high' that can elevate your mood and make you feel better. They also act as natural painkillers, which combined with the circulation of blood from moving, can provide some relief to the pain and discomfort from your period, such as menstrual cramps.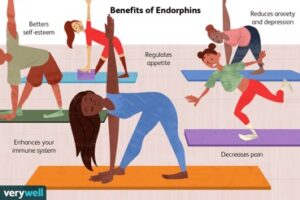 Source: Very Well
2.   Increase Mood and Decrease Depression
The release of these endorphins can also help reduce stress, anxiety, and levels of depression while also boosting your mood. Despite feeling drained and tired from your period, working out will actually help you feel better, you just need to push through those first 10 minutes of your workout. We promise it will be worth it!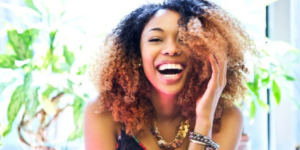 Source: Huff Post
3.   Have More Energy
Exercise physiologist Pete McCall states that any physical activity "will enhance the blood flow carrying oxygen and nutrients to muscle tissue, improving [your] ability to produce more energy." Even while on your period, once you've passed those first 10 minutes of discomfort in your workouts, you'll notice you will feel more energized and less fatigued.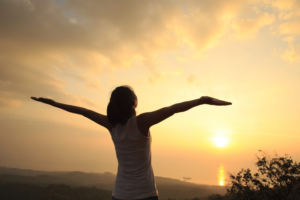 Source: Goal Cast
4.   Take Advantage of Testosterone
Throughout your period, there will be spikes and dips in hormone levels as they work to help prepare the egg for fertilization. Testosterone is one of the hormones that aid in this process and is known for helping with the growth and maintenance of muscle or strength. By training while on your period, you can take advantage of testosterone to continue getting stronger.
In one study, women performed high frequency leg resistance training while on their period, which had positive results in their training, such as jump height and an increase in lean body mass.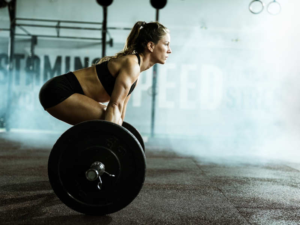 5.   Keep Consistent with Your Fitness Goals
By working out on your period, your mental fortitude and physical ability will undoubtedly get stronger. These are so important when making progress with your fitness goals, or even just maintaining a healthy lifestyle.
The progress you make from staying consistent will only increase your motivation to keep working out, creating the healthiest cycle we can think of.

The Best Ways to Workout on Your Period
1.   Yoga
Doing yoga requires you to pay attention to your body; where it is and how you move it. Therefore, it can give you a greater sense of and connection to how your body is feeling.
Flowing into different poses that can help relieve your symptoms is a wonderful option for working out on your period. Try a yoga class or even do a quick 15-minute yoga flow focused on periods on YouTube.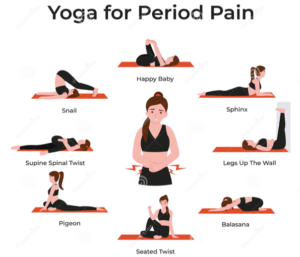 Source: Dreams Time
2.   Light Cardio
Incorporate light activity such as walks around your neighborhood or going on nearby hikes or trails to increase blood flow. This will also allow you to get some fresh air that can be reviving when you are fatigued from your period. You can even choose something you enjoy or try something new like dancing, any type of cardio would do!
Not only can this type of activity aid in reducing PMS like cramps, it is also very beneficial for strengthening your heart muscles.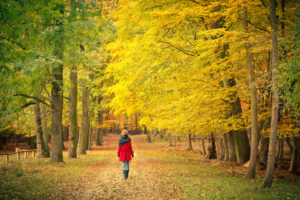 Source: Orchard Osteopaths
3.   Low-Volume Strength Training
By doing less reps and more weight, you will keep your heart rate at a good pace that encourages blood flow without working too intensely. This type of training is also exceptional for building strength, which is always useful no matter what your goals are.
If you're unsure of what to do in the gym, you might consider hiring a personal trainer who can help you figure out the areas you want to work on, set goals, and stay consistent.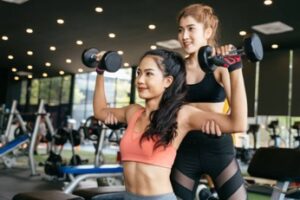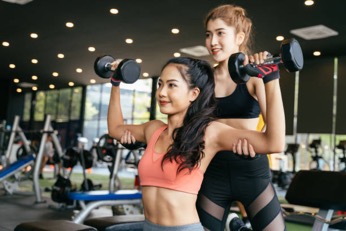 Source: iStockPhoto
Conclusion
If you aren't yet sold on the idea of working out on your period, we recommend you give it a try. The benefits outweigh the costs, and you will thank yourself in the end. Take advantage of all those neurotransmitters and hormones in your body to feel better, stronger, and happier, especially when you're on your period.
And while it's important to keep consistent with your physical activity, it's equally important to eat a balanced diet, get enough sleep, listen to your body so that you can give it what it needs and also to enjoy what you're doing.
About Turnfit Personal Trainers
TurnFit Personal Trainers is founded by David Turnbull or "Coach David" – an experienced and successful Personal Trainer who strives to build happier, healthier lives every day.
With a focus on holistic health, we pride ourselves on making a difference and were recently awarded the 2019,2020 & 2021 Top Choice Award for Personal Trainer in Vancouver.
TurnFit's Mission:
Heath is essential to living an optimal life with the most positive experiences you can have. TurnFit helps you extract your true why from your goals. By asking the right questions, we learn as much as we can from our clients. We understand the genuine need, not just the wants. We create a total wellness program that includes the days when you meet with us and homework on your own time. The key to success is proper programming and consistency. It's easy for us to keep our clients consistent when we know their deep motivation for their goals. We know their is so much misinformation on health and fitness that it can be overwhelming when trying to level up your health that some people don't know where to start. We will not only empower you to start but give you all the tools and knowledge that you can do it on your own anytime you choose. We love to laugh and have fun with our clients feel their workouts are the highlight of their day. You will look forward to every workout.
Join the TurnFit community on Facebook and take advantage of our FREE content by subscribing to our Youtube channel.
We look forward to hearing from you!
References:
http://umu.diva-portal.org/smash/record.jsf?pid=diva2%3A955835&dswid=-3754
https://www.acog.org/womens-health/faqs/premenstrual-syndrome?utm_source=redirect&utm_medium=web&utm_campaign=otn
https://www.medicalnewstoday.com/articles/276013#outlook
https://www.webmd.com/depression/guide/exercise-depression#1
https://www.acefitness.org/education-and-resources/lifestyle/blog/6589/increase-energy-levels-and-cure-fatigue-through-exercise/