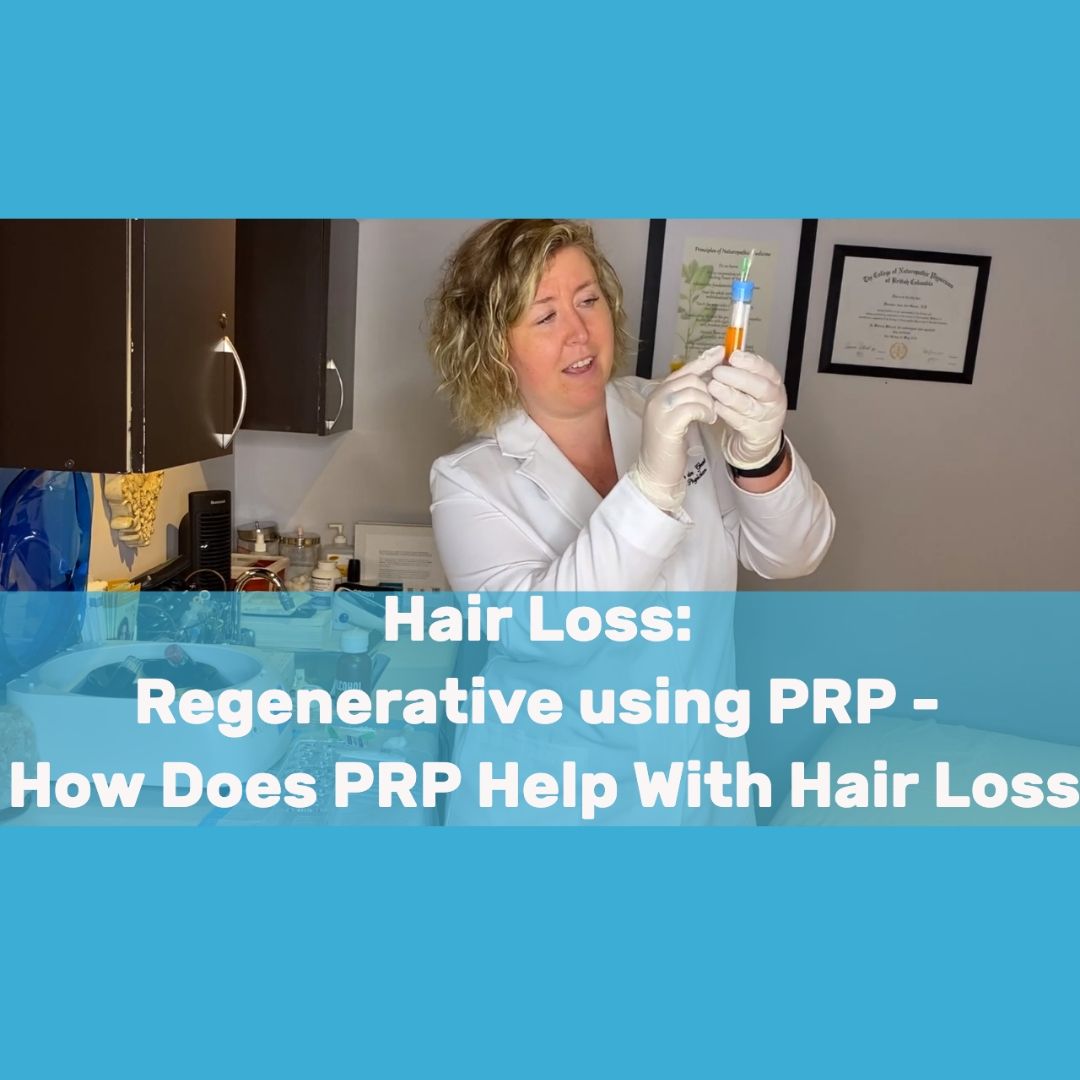 Hair Loss: Regenerative using PRP?
Hair loss can be a concerning issue. This can be a concern for both males and females. The reason for hair loss can be from stress, hormone dysregulation, genetics, or other factors. Hair loss can leave a person feeling self-conscious about how they look, compared to how they looked before.
There are different options such as prescription drugs or hair restoration to deal with hair loss, but they often carry many unwanted side effects and hair restoration can be expensive and does not treat the underlying medical problem.
Using PRP, is an affordable and great way to regain your hair density back without surgery or harmful side effects. Platelet-Rich Plasma (PRP) for hair restoration involves a simple injection of your own platelets into the vascular layer of your scalp.
PRP for Hair Regrowth
Increases blood supply to the follicle
• Increases shaft size (thickness)
• Triggers and maintains the growth phase
• Controls hair growth cycle
• Decreases hair loss
What is Platelet-Rich Plasma?
Platelet-Rich Plasma, also known as PRP, is a high concentration of your own blood platelets in a small volume of plasma (fluid).
How is PRP extracted?  
Step 1: Utilizing a specialized blood collection tube, the Naturopathic doctor draws a small amount of blood similar to what is required for a basic lab test.
Step 2: The tube is then placed into a centrifuge which spins the blood at a very high speed, causing the platelets to separate from the other components of the blood.
Step 3: Once the platelets are concentrated into the plasma they can be applied to the patient. The plasma contains essential growth factors, stem cells (from the patient), platelets and signaling proteins, which are responsible for the regrowth of the hair, and stimulation of the hair follicle.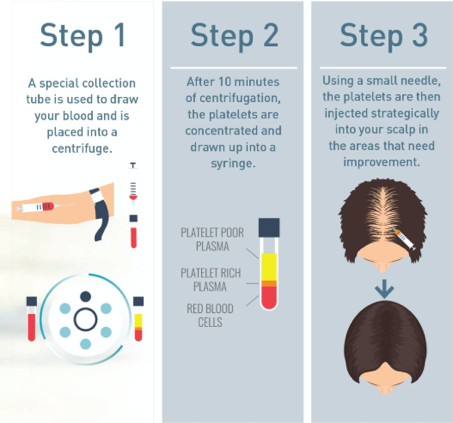 How does PRP work?
Platelets contain healing growth factors. Those growth factors are like signal callers that give instructions to your tissue to regenerate and multiply. This has led medical professionals to utilize PRP for wound healing to speed up recovery time and regrow healthier, stronger tissue. Now doctors have discovered new benefits for hair thickening and regrowth. With PRP for Hair, your growth factors and stem cells work together to reverse the miniaturization of the hair follicle and jumpstarting dormant hair back into the growth stage.
How long does the PRP process take?
The blood draw takes just a couple of minutes, followed immediately by a 10-minute centrifugation. The time involved in the procedure varies on the area being injected. It is usually only 10-15 mins total
How many treatments are required? Treatment will vary based on your need. Initially, your provider may recommend several treatments spaced 1 month apart. After the initial treatment, many physicians suggest by maintenance treatments 2-3 times per year.
Can a PRP procedure be painful?
The PRP solution does not usually sting or burn. There may be some sensitivity. However, most physicians utilize effective anesthetic solutions, such as cold ambient air or a topical analgesic to minimize any potential discomfort. There may be some temporary discomfort or possible redness and inflammation at the injection sites, but it quickly resolves.
Is there any recovery time? There is no downtime or a long recovery process. You may take a warm shower the evening of the treatment. In addition, it is advised to avoid using any harsh dyes or chemicals on your hair for 48 hours.
Is PRP safe?
Since the autologous Platelet-Rich Plasma (PRP) is produced from a patient's own blood, there is virtually no risk of an allergic reaction or rejection.
How do I know if I am a good candidate for PRP?
Talk to your Naturopathic physician for a proper diagnosis and to create a treatment plan.
Is this a cure for baldness? PRP is not a cure for baldness if there is a genetic issue, however, there is great evidence that regular treatments can significantly slow down the effects of hair loss and even works to increase hair density. Ask your provider for more details and if PRP is right for you.
PRP treatments are available with Dr. Heather van der Geest, Naturopathic Physician at Kinetic Patterns Medical Clinic and Divine Elements Naturopathic Clinic in Vancouver. Dr. Heather van der Geest, ND offers Hair Rejuvenation and Facial Aesthetic treatments out of both clinics.  Book your free 15 min information session today.
You can find Dr. Heather van der Geest:
How Can I Join The Turnfit Family?
Click here to learn more about our online training packages, and choose the one which best suits your needs. We will send you an invite to download the Turnfit app and set up a time to complete your FREE video assessment call.
Then, make sure you join our community on Facebook for up to date information, access to the team, and a whole host of other free resources, training programs, boot camps and more!
Don't forget- you can help your friends and family to stay healthy, and earn up to one-month FREE membership when you refer 4 friends– the best part is they can start with ANY package!
For more information about our programs or packages, or about any of our resources please don't hesitate to reach out and connect:
Call: 778-887-0660
Email: info@turnfit.ca
Website: https://turnfit.ca/
Facebook: https://www.facebook.com/TurnFitPersonalTrainers/
We're always available to help you improve your health and fitness goals!
---
About Turnfit Personal Trainers
Turnfit Personal Trainers is founded by David Turnbull or "Coach David" – an experienced and successful Personal Trainer who strives to build happier, healthier lives every day.
With a focus on holistic health, we pride ourselves on making a difference and were recently awarded the 2019 Top Choice Award for Personal Trainer in Vancouver.
It's our mission to help you to build the skills, and mindset, it takes to feel successful in all areas of your life.
For more information, please visit Turnfit.ca, join our community on Facebook and take advantage of all of our FREE content by subscribing to our YouTube channel.
We look forward to hearing from you!
-David Turnbull