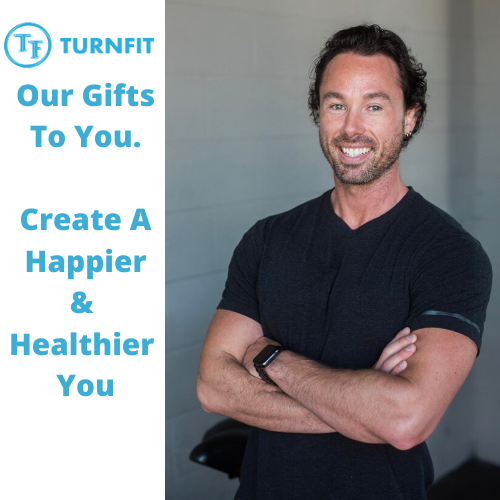 Click on any of the links below to access more information on leveling up your health. We hope you have been managing to stay happy and healthy. 
Corona Stress Management Guide 
Workout music in Spotify and YouTube 
14 Days Of Free HIIT Classes 4-20 minutes long per day
THE PLAY-CEBO EFFECT: WHY ITS IMPORTANT TO PLAY AS AN ADULT!
FALL ASLEEP FAST! 5 WAYS TO UNWIND
EXERCISE AND MENTAL HEALTH: MORE EFFECTIVE THAN MEDICATION
BUILD YOUR BOOTY AND BOOST YOUR HEALTH!
WHY YOUR MID-SECTION SHOULD BE THE CORE OF YOUR WORKOUT
PRACTICE AND CULTIVATE: BETTER HABITS + BETTER THINKING = LESS STRESS!
How Can I Join The Turnfit Family?
If you're ready to improve your habits, body alignment and health, you're only one step away.
Click here to learn more about our packages, and choose the one which best suits your needs. We will send you an invite to download the Turnfit app and set up a time to complete your FREE video assessment call.
Then, make sure you join our community on Facebook for up to date information, access to the team, and a whole host of other free resources, training programs, boot camps and more!
Don't forget- you can help your friends and family to stay healthy, and earn up to one-month FREE membership when you refer 4 friends– the best part is they can start with ANY package!
For more information about our programs or packages, or about any of our resources please don't hesitate to reach out and connect:
Call: 778-887-0660
Email: info@turnfit.ca
Website: https://turnfit.ca/
Facebook: https://www.facebook.com/TurnFitPersonalTrainers/
We're always available to help you improve your health and fitness goals!
---
About Turnfit Personal Trainers
Turnfit Personal Trainers is founded by David Turnbull or "Coach David" – an experienced and successful Personal Trainer who strives to build happier, healthier lives every day.
With a focus on holistic health, we pride ourselves on making a difference and were recently awarded the 2019 Top Choice Award for Personal Trainer in Vancouver.
Every trainer at Turnfit is committed and relentless in our pursuit to help you reach your health and wellness goals. It's our mission to help you to build the skills, and mindset, it takes to feel successful in all areas of your life.
For more information, please visit Turnfit.ca, join our community on Facebook and take advantage of all of our FREE content by subscribing to our YouTube channel.
We look forward to hearing from you!
-David Turnbull