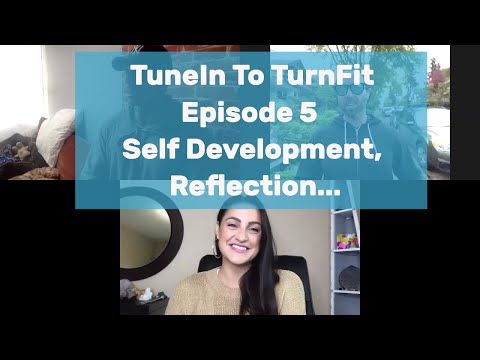 Today in TuneIn To TurnFit Episode 5 we talk about Self Development, Reflection, Cleanse, Smart Sweets and more. Tune in to find out.
We also have special guest Deidre Sirianni who has an amazing course that she just came out with. Click The Link To Learn More Below: https://davidturnbull.krtra.com/r/a/9MYdDsQ3adUR9Dl
Deidre Sirianni is a friend of mine and is someone who has made it her
life's work to help to help people like you to not just know what their
purpose is, but to powerfully step into it and live it.
The truth is, many people know what their purpose is, and yet they don't
necessarily have the right tools, support, and community to help them fulfill it.
And naturally when we don't have the right people supporting us, we can
get in our own way.
I know it's definitely happened to me which is why it's important to do the work.
And when we don't show up fully for our life and purpose, it's unfulfilled potential.
I don't know about you, but that is the kind of stuff that keeps me up at
night.
Is not living in my full potential which is why I want to introduce you to
Deidre Sirianni.
She is a TEDx & International Speaker, Accelerated Evolution Guide,
Activator of Truth and coach.
Her mission is to support as many people as she can in her life to wake up
to the truth of who they are and who they are meant to be.
Click The Link To Learn More Below: https://davidturnbull.krtra.com/r/a/9MYdDsQ3adUR9Dl
Still haven't subscribed to Self on YouTube? ►► https://www.youtube.com/channel/UCDZofic8Z-MQIYl7ZYxeRuA?sub_confirmation=1
You can also find this podcast here:
https://tuneintoturnfit.podbean.com/
#TurnFit
For more information about our programs or packages, or about any of our resources please don't hesitate to reach out and connect:
Call: 778-887-0660
Email: info@turnfit.ca
Website: https://turnfit.ca/
Facebook: https://www.facebook.com/TurnFitPerso…
We're always available to help you improve your health and fitness goals!
_____________________________________________________________________
About Turnfit Personal Trainers
______________________________________________________________________
Turnfit Personal Trainers is founded by David Turnbull or "Coach David" – an experienced and successful Personal Trainer who strives to build happier, healthier lives every day.
With a focus on holistic health, we pride ourselves on making a difference and were recently awarded the 2019 Top Choice Award for Personal Trainer in Vancouver.
Every trainer at Turnfit is committed and relentless in our pursuit to help you reach your health and wellness goals. It's our mission to help you to build the skills, and mindset, it takes to feel successful in all areas of your life.